Opening Reception
Monday, October 7th, 7:30 pm – 9:30 pm
Get your first taste of Vegas at an evening filled with drinks, light hors d'oeuvres, and great company by the pool at the Red Rock Resort & Casino. The Opening Reception is your introduction to the conference experience and the perfect opportunity to network with like-minded industry peers, but better yet, this event is included in your Conference registration fee! So before you dig into your sessions, join your fellow attendees and Rent Manager staff at the Opening Reception!
Event Sponsored By:
Meal-Time Networking
Tuesday – Thursday, October 8th – 10th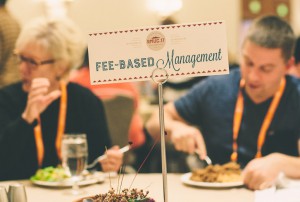 There's so much to cover at the conference and we want to help keep the conversation going! Meal-time Networking—which takes place during our sponsored breakfasts and lunches—begins with an industry-related topic and a great meal, and ends with new insights and valuable connections. Here's our schedule of topics:
Tuesday Lunch: Industry Segment
Wednesday Breakfast: Number of Years with Rent Manager
Wednesday Lunch: Favorite Rent Manager Feature
Thursday Breakfast: Favorite Movie Genre
These Meal-Time Networking sessions will provide an organized way of meeting new professionals whose background and experience complement your own.
Premiere Social Event
Tuesday, October 8th, 6:30 pm – 10:30 pm
Cost: $55 per attendee
Come and experience a well-deserved night out with dinner, drinks, and entertainment! Lots of fun and excitement await you at the Premiere Social Event!
More details to come…
Event Sponsored By:
Registration open soon!
*Social Event registration will be $75 if purchased at the Red Rock Resort & Casino in Las Vegas. Each additional Social Event registration for those not attending the conference will also be $75.*