JW Marriott Tucson Starr Pass Resort & Spa
The destination for RMUC.17 is the JW Marriott Tucson Starr Pass Resort & Spa, a luxury experience that features a rare blend of style, comfort and elegance!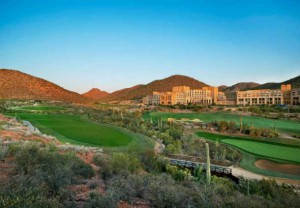 3800 W. Starr Pass Boulevard 
Tucson, AZ 85745
520-792-3500
Room Rates: $199.00 per night
To make reservations, you may call the toll-free number at 1-877-622-3140 or online.
CLICK HERE TO MAKE YOUR RESERVATION ONLINE!
Discover luxury without compromise at the JW Marriott Tucson Starr Pass Resort & Spa. Perfectly situated amongst the saguaro-covered foothills of
the picturesque Sonoran Desert, our resort welcomes you with beautifully appointed guest rooms and suites, a remarkable range of luxury amenities and a fantastic location; we place the best of Tucson at your fingertips.
Perfect your swing with championship course play at Starr Pass Golf Club, tantalize your taste buds with exceptional cuisine at one of our on-site restaurants, treat yourself to a day of pampering at our signature spa or simply relax by our stunning multi-level pool, which also boasts a waterslide and lazy river.
The Rent Manager User Conference will be taking advantage of the hotel's 80,000 square feet of versatile, impeccably designed venue space, in addition to first-rate planning and catering services. Allow the luxury JW Marriott Tucson Starr Pass Resort & Spa to set a new standard for contemporary excellence.
And as an added bonus, all conference attendees will receive all the benefits of the resort with a vastly discounted resort fee of $1. The resort fee includes Internet, self parking, daily fitness activities, 15% off gifts and clothing in the gift shop, and unlimited access to the golf driving range.
ACTIVITIES
Mitakuye Oyasin (Mee-tah-kay Awe-sin) Morning Ritual
We invite you to join us each morning on the Salud Terrace to participate in a traditional Native American ceremony and unique Sonoran Desert experience. During our morning ritual, the warming sunrise, the Native American Flute, burning your own sage prayer tie and an eagle feather blessing will inspire you to see your life from a higher perspective. Begin each day by reflecting on the connection we all have with nature and each other, finding focus and creating lasting memories. In a ritual that is centuries old, you will have the opportunity to make your intentions known to the universe through the traditional burning of sage. Experience our morning ritual and discover "Mitakuye Oyasin."
Starr Pass Biking
Your adventure starts here with an escorted Mountain Bike ride among majestic, Saguaro-filled hills known as the Tucson Mountain Park. Within minutes you'll feel transported back to a time when men and women lived off the land and relied on the desert habitat for survival. Whether it's your first time cycling in many years, or you're looking to work a few miles into your fitness plan, we can provide a ride to suit your needs. Extreme to sublime. It's your choice.
Arriba, Abajo Salud Tequila Toast
Every evening at sunset (5:30 pm) we welcome you to gather on the Salud Terrace to watch the sunset and experience our nightly tradition – the Tequila toast.  The legend of Arriba, Abajo begins with the tradition of a man asking his beloved's father for her hand in marriage. To hear the rest of the legend, join us for this unique experience where we feature one of our more than 150 artisan tequilas and a complimentary toast: "Arriba, Abajo, al Centro, al Dentro, Salud!" (Up, down, out and in). This is the perfect way to celebrate with old friends and create new ones – "we are all related."
Lend yourself to luxury at the JW Marriott Tucson Starr Pass Resort & Spa.
For more information, check out the JW Marriot Tucson Starr Pass Resort online!